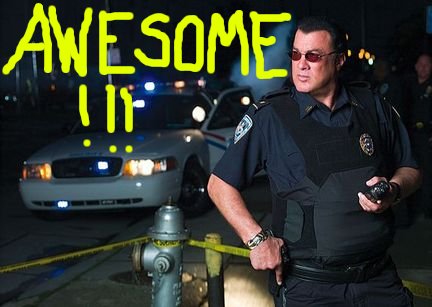 Get ready, folks. Steven Seagal is playing himself again. It's a fact that Seagal doesn't play characters in his movies. He just plays himself, but uses a different name. Now, it's come full circle, because he's starring in his own reality show:  Steven Seagal Lawman.
I literally giggle with giddiness when I type that out. How awesome is this going to be? Imagine the meaty fingers of Seagal on a true-as-life loaded weapon, aimed at some traffic lawbreaker. Or to see if it's really that easy to break bad guy's arm.
The real challenge is going to see if he can stay "on script." In a reality show where Seagal is a cop, I only mean if he can restrain himself from impinging on other's constitutional rights. I think it's safe to assume we've seen a movie with the pony-tailed assassin where he's a cop who doesn't give a damn for a bad guy's so-called rights.  Does he act from experience? Or does he abandon reality to get into character? We'll see.
Alan Sepinwall of the New Jersey Star-Ledger penned a great mainstream review for the show after he got a sneak peak.  After reading this, I already can't wait for the DVD so I can see the unused footage of Seagal talking about the teachings of Buddha – only to have the next scene showing him to properly restrain a violent offender using painful pressure points.
Get ready for a liveblog posted after the show ends tonight. If that doesn't get you excited read the following passage from Sepinwall's
piece:  "Seagal is a producer on the project, so what might just be a spin on 'Cops' instead turns into a celebration of his own awesomeness."