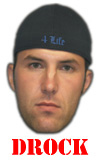 The Governator is back in the headlines and it has nothing to do with a cameo in an upcoming movie or for a sequel to Commando.  No, it has to do with a video he posted on Twitter where he is seen holding a knife while talking about budget cuts and solutions to get California out of the huge financial mess they are in.
At almost any other time, the video would have raised a few eyebrows and probably nothing more.  It would be par for the course for the guy who steamrolled the action genre in the 1980s and early 1990s.  However, it comes across to some as offensive, mystifying and "desperate" during a time when Schwarzenegger just presented a budget that includes $15 billion in budget cuts.  The Governator had this to say to his critics…
"You know, you sent a governor to Sacramento — not El Stiffo, like some of the past were, but you sent someone that is a little bit more entertaining and has a little bit more fun with the whole thing," Schwarzenegger said.
True, true.  And the LAH agree.  Check out the video below to see what I'm talking about.
When I saw the video, I saw nothing offensive.  I saw a man having fun with a job that probably provides little chance at fun.  I also saw glimpses of a man with an action resume as extensive as any.  And as a tribute to the knife-wielding Governator, we present to you these glimpses of Arnold's long-standing relationship with the knife.