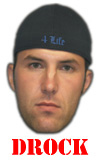 Welcome to our newest feature at LastActionHeroes.com:  Real Life Action Heroes!!  Every so often one of our esteemed crew of action analysts will stumble across a story or an audio clip or even a video clip of some person doing something incredible, funny or both.  We'll post it here for the world to see and for you to enjoy.  And now on to our first Real Life Action Hero…
This man comes from a community known more for their delicious cookie factory than ass kicking elderly people, but that's what we have here.
Earlier this week, a 68-year old homeowner (dubbed by LAH as the Ripon Reaper) returned home to find his lights on and a burglar transporting stuff inside and out.  With his home burglarized earlier in the week and deciding to take no chances, the Reaper grabbed his pistol and confronted the 23-year old burglar face-to-face Gran Torino style.  Sounding like an Abe Simpson hopped up on sugar and meth, the homeowner shouted expletives at the home invader and threatened to blow his head off if he moved an inch.
And how do we know all this?  Because the 911 tape of the entire incident was recorded.  Check it out below.
Audio clip: Adobe Flash Player (version 9 or above) is required to play this audio clip. Download the latest version here. You also need to have JavaScript enabled in your browser.
A full-story about the geriatric ass-kicker can be found here on the Milwaukee Journal Sentinel web site while a mug of the verbally abused burgler, 23-year old Michael J. Roehling, can be found below.
You'd think after Gran Torino, this nation's youth would think twice about messing with the elderly.  Let the lesson of the Ripon Reaper and Mr. Roehling serve as a warning.
While looking at the beaten down burglar's mug, it reminded me of the photo of terrorist Khalid Sheikh Mohammed shortly after he was captured.  When placed side-by-side, there is a bit of a resemblence.