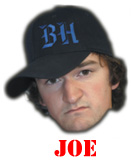 Don't f*** with Liam Neeson. Just don't.
That's more or less the central thesis of "Taken," which made its long-awaited (at least to the Last Action Heroes) move to DVD on Tuesday.
Simply put, this movie is awesome. It's a true action movie. There's a clearly defined action star, some bad acting, an easy-to-follow plot and a small army of bad guys who get dead.
In "Taken," we're introduced to Bryan Mills, played by Neeson. Like any good action hero, he's a former government operative of some sort. And like in so many other action movies, a bunch of bad guys make the mistake of messin' with his family.
Now this movie starts a bit slow, as the first half hour is bogged down with bad dialogue — a staple of any good action movie — and absolutely no taking. Finally, about 30 or 35 minutes in, shit starts getting taken.
Against his better judgment, Neeson allows his 17-year-old daughter to go on a vacation to Paris with her friend Amanda, who seems to be quite the little tramp. Quickly, Amanda's whorish ways get the girls in trouble when a sketchy Euro dude seduces them at the airport and finds out where the girls are staying. Yep, you guessed it, they get taken.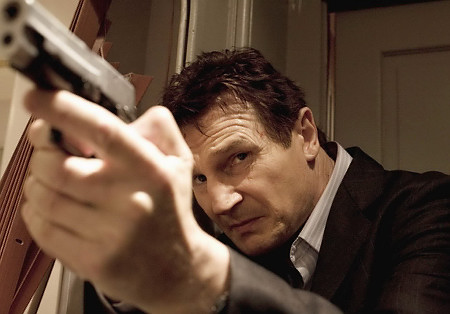 Problem is, that's Liam's daughter. Wrong guy to play with, homes! They take his daughter, so he starts taking shit of his own — like people's lives. Now Neeson isn't really thought of as an action star but he plays the part well in this bad boy.
Here are some stats for the Blood Bank:
* Neeson records 22 of the movie's 24 kills
* He also has 30 of its 34 beatdowns.
JCVD or Seagal would be happy with those sort of stats.
That's 22 lives taken by Neeson. Also taken throughout the movie are Kim, his daughter; that slut Amanda; a denim jacket; a dude's head and three cars. Oh, and at the beginning of the movie, Neeson says, "I'll take it," when buying a karaoke machine for his daughter's birthday. So I'm counting that too. How much taking can one man pack into a movie?!
The most badass — and hilarious — part of the movie might be when Neeson shoots a guy's wife in the shoulder to get information out of him. And we're led to believe that this guy was Neeson's buddy at some point.
Like I said, don't f*** with the guy.
If you like action movies, you will like "Taken." Rent it, buy it, steal it, whatever. Just watch it.
I award "Taken" four Steven Seagals.