The latest entry of "Flashback Fridays," takes us all the way back to September of '06. Goat and DRock formed an elite team of action experts and, after much debate, put into place the first four action laws known to man.
……………………………………………………………………………………………………..
Because of the extended hiatus of LAH, we'd like to use this column to give our massive readership a refresher course in the art of the action film. In an effort to really flesh out our own ideas and get the whole picture when it comes to action, we assembled our own action panel … homage to the men of the square table.
Through some rather lucrative contracts we were able to secure the assistance of Steven Seagal, Jean-Claude Van Damme, Chuck Norris, Sylvester Stallone, Arnold Schwarzenegger and Najeh Davenport. We tried to get Terry "Hulk Hogan" Bollea to ink a deal with us after his superb work in "Suburban Commando," but the money wasn't right for him, and he was still tied up with his horrible reality television show (sorry, McGrath). In his place, we've gotten the only wrestler more akin to action than the Hulkster himself: "Rowdy" Roddy Piper. We are the men of the action table (MOTAT).
Our crack team of action experts put in tireless hours analyzing everything from "Hard to Kill" to "Knight Rider" and everything in between. We made our way through countless Red Dogs (the official beer of the MOTAT), debating everything from machine guns to pooping in closets. And the results? Other than a damn fine time, we were left with some of the best action concepts ever inked on paper. And these concepts, dear readers, are hereby to be known only as the action laws.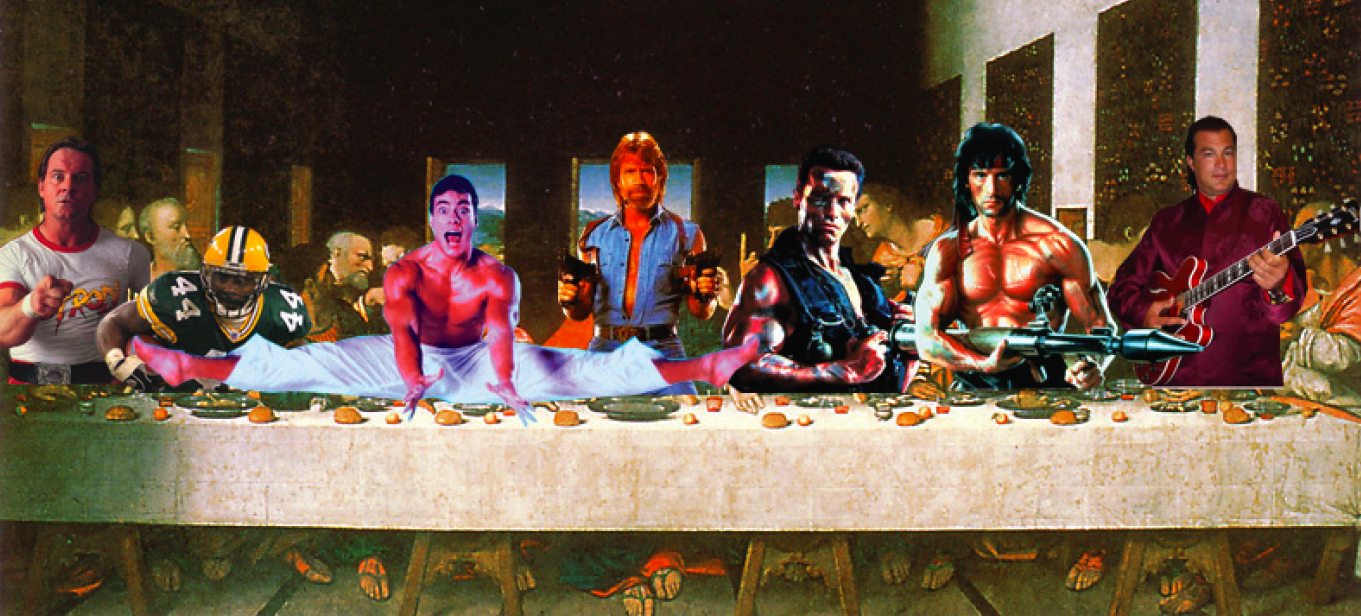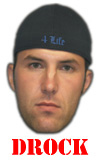 1. Vigilante justice prevails.
In the great history of the action genre, very few action stars are ever arrested for the multitude of mindless kills and plethora of mind-numbing beatdowns. The only high-profile arrest that was not resolved in a single movie was that of one John Rambo.
In the case of JCVD, Seagal, Norris and other action stars, vigilante justice is the name of the game. I've seen more action movies where Dolph Lundgren goes home with a piece of ass, than movies where the action star is asked to account for the 28 people he killed with his pistol and bare hands.
In "Delta Force," Chuck Norris plays the part of the ethnic cleanser. By all accounts, there are no known survivors in the fictional country of San Carlos.
That's because Norris kills them all, and, in the end, nobody asks questions — they only celebrate the great victory of the United States over the evil drug-dealing villains of that far away land. Norris racks up 65 kills in this action gem, almost all of them coming indiscriminately within a 10-minute action sequence to finish off the movie.
This type of vigilante justice is repeated over and over and over. It's one of the few enduring laws of the action genre. Even in such movies as "XXX" and "Walking Tall," the action stars are never truly questioned about their kills.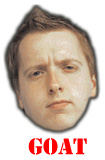 2. If you're rocking a wicked 'stache, you will die.
There is nothing inherently wrong with a little facial hair. Almost every man at some point or another feels the need to experiment with it … and that's OK.
But when it comes to the action realm, facial hair is akin to a bull's-eye on one's face. If you're in a room with Chuck Norris and you happen to be sporting a wicked fu manchu, odds are you're about to be spin kicked out of your seat.
Almost any villain in an action film meets an untimely demise if they have said 'stache: Bennett in "Commando," MacGruder in "On Deadly Ground" and M. Bison in "Street Fighter" were all brutally battered before their respective films concluded. Even Hans Gruber was ousted due to his hideous facial hair, though it was really more of a beard than mustache. And we must never forget the ass-whomping Chuck Norris gave to the hairy-faced terrorists in "Delta Force" — leaving in his wake a kill count yet to be topped by any action star. There are always a few exceptions to every rule, but that's bound to happen. From this point forward, however, this group of literally thousands of action villains slain simply because of their whiskers will forever be remembered in action law.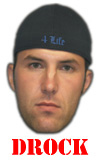 3. The word "plot" is foreign to any true action movie.
It's not surprising that in an era where no true action hero exists, all action movies have plots. Back in the golden era of the action genre (1980s, early 1990s), guys like Van Damme and Seagal pumped out four, five, six movies a year and none of them had any shred of a respectable plot. Take "Hard Target" as a prime example of this law. Besides the glorious mullet adorning the dome of JCVD in this all-time action classic, the movie was bald of any coherent or remotely believable plot.
Chance Boudreaux is an unemployed seaman working in New Orleans and is awaiting his next job from his union boss. When his name is called, he finds out he must pay union fees totaling $217 within the week or he could not go on any missions. Enraged, Boudreaux storms out of the dock, but remembers a lady who said she would pay him to find her lost father.
What would unfold over the next 90 minutes would be nothing short of craptacular. Boudreaux agrees to help the lady find her father in exchange for the $217. The next few days are marked by more than 30 kills, many more beatdowns, Wilford Brimley on a white horse, JCVD pumping shotguns while perched atop a moving motorcycle of which he is the only operator and the always necessary cemetery shootout. In the end, JCVD gets his money, and the lady learns the fate of her lost father. Not that it would've been too difficult for JCVD to simply rob a convenience store and get his dash on, but what's the fun in that?
You got it, one of the all-time action classics was based entirely on JCVD getting $217 so he could work on a shrimping boat.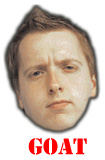 4. All true action heroes must have a shady past accompanied by ridiculous rumors.
Going along with the overall lack of any sort of real plot comes the other side of the coin: no legitimate action hero has any shred of history in a movie. Sure, you'll get little hints that "So and so was a Green Beret for 17 years" or "Yeah, he killed a pack of wolves with his bare hands and a bottle of bourbon." But any action star worth his weight will never divulge the juicy secrets that make up his sordid past.
Take John Matrix, perhaps the finest action hero to ever live. The things that moviegoers knew about Matrix (excluding any villain-rooted rumors) were:
1. He had a daughter; her name was Jenny (Chenny, to be more accurate).
2. He enjoyed carrying tree trunks over mountains almost as much as he did feeding deer.
3. He was once in the military.
And that's just about it. The beauty of a true action hero is he transcends the bounds of reality and encourages viewers to embrace him for what he is: a complete shadow of a man with no real past, present or future. Going back to the rumors started by villains, no action legend is complete without the main villain speculating about his ass-kicking prowess. The best example of this spiel comes from Brother Seagal's own "On Deadly Ground," as R. Lee Ermey tries his best to describe Forrest Taft (Seagal) to his cronies.
The highlight of it all comes late into his speech as he says (no lie):  "He's the kind of guy that would drink a gallon of gasoline just so he could piss in your campfire! You could drop this guy off at the Arctic Circle wearing a pair of bikini underwear, without his toothbrush, and tomorrow afternoon he's going to show up at your pool side with a million dollar smile and a fist full of pesos."
Now THAT'S the sort of guy I wouldn't want to mess with. When an action hero's back-story is left open to pure speculation, everyone is a winner.